Tom Brady = GOAT?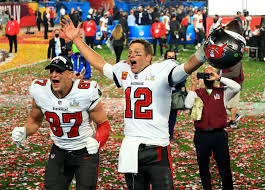 After a Super Bowl filled with suspense, action, and heartbreak, the Tampa Bay Buccaneers defeated the Kansas City Chiefs, giving   quarterback Tom Brady his seventh ring. He defeated the defending Super Bowl champions led by star quarterback Patrick Mahomes. Mahomes and the Chiefs scored under 10 points for the first time this season, and the defense could not stop Brady and the Buccaneer's offense. 
The Buccaneers largely controlled game play. After leading by four at the end of the first quarter, the Buccaneers exploded and took a huge 15-point lead into the half. The second half was no different. The Buccaneers outscored the Chiefs 10-3, marking the first time in Mahomes's career that he did not score a touchdown in a game. 
Fans said  the game solidified Tom Brady as the "GOAT" (Greatest of All Time). He became just the second player to win a championship with two different NFL franchises and continued to build on his NFL record of seven championship rings. 
Senior Alex Brody called Brady "the GOAT. He is the greatest winner of all time and is ageless," saying the game"cemented his legacy." Sophomore Grant Rothfeder agreed with Brody, calling the game " a feat of excellence that confirms Tom Brady's infamous nickname as the GOAT." 
Tom Brady was going into his 42-year-old season with a new team. People thought coming into this season that, after his fall in the playoffs for the first time in over 10 years the year prior, Brady would be done and that he was "washed up". He proved everyone wrong by not only winning the championship but also winning a Superbowl MVP (an award is given to the best player in the Superbowl, a very prestigious honor) 
Winning back-to-back Super Bowls is no easy feat though. The Kansas City Chiefs tried to become just the 7th team in NFL history to go back-to-back with Super Bowl wins.  The last team to do it was the 2003-2004 New England Patriots, led by none other than the man on the other side of the field, Tom Brady. Patrick Mahomes would have also become the youngest player to ever win back-to-back Super Bowls, but as we have learned, you can't beat Brady in the playoffs. 
In the game, Rothfeder saw "Tom Brady proving his greatness as he won his 7th Super Bowl title while facing a team that was looking for back-to-back Super Bowl victories. Honestly, I wasn't really surprised by the outcome, because when Tom Brady is in the playoffs he becomes unstoppable. He has won 70% of the Super Bowls he has played in and has been to the Super Bowl 10 times."