A Look at the Rockets Upcoming Season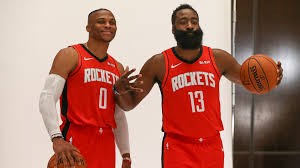 As the 2019-2020 NBA season begins, the Houston Rockets remain one of the top teams in the Western Conference. The Western Conference is not as dominant as it has been in previous years, so the Rockets have an opportunity to make a deep playoff run later this season. Newly acquired superstar Russell Westbrook will team up with perennial all-star James Harden in an attempt to have a successful year. The rest of the Rockets supporting cast remains strong, led by head coach Mike D'Antoni. 
Emery fans are excited about Westbrook and Harden teaming on the Rockets. "They will be determined," Senior Alex Kuperman said, "and they will find what they need to do to get it to work because they are hardworking and they both know what they need to do to get a ring." Junior Brock McEldowney said the duo will work because "Russ can take control of the offense and Harden can still offer his high volume scoring with efficiency." The Rockets want to accomplish what they failed to accomplish last season: winning the championship. Since the start of training camp this summer, the team has been putting in daily work to improve. Expectations are high. Kuperman's expectations are no exception.
"I believe that the Rockets will be a title contender for the 2019-2020 season," Kuperman said. If the Rockets can maintain momentum and continue from last year's campaign, those expectations can be met, and unlike the hometown Astros, the Rockets might have a parade in June. With a lot to look forward to for this upcoming season, the Rockets will look to accomplish a lot and should be very entertaining for their fans and the rest of the league.