Astros Bregman Raises Money For Food Bank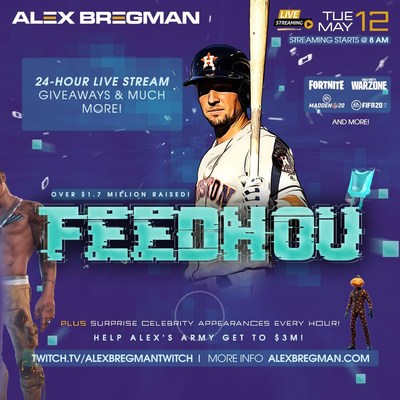 Astros third baseman Alex Bregman and his fiance Reagan Howard have hit a home run in giving back to Houston while baseball is on pause due to COVID 19. They have teamed up with the Houston Foodbank to help feed Houstonians in need during the pandemic.
Originally, Bregman and Howard launched the campaign with a  goal set at $1 million, but now they have raised close to $2 million. They have also volunteered their time at the food bank in the last few weeks. "We want to be on hand and actually help and see where the money we're donating is going," Bregman told Astros writer Brian Mctaggart, "and ensure the people that donate to this cause that their money goes to exactly what it is, and that's feeding the kids here in Houston." Every dollar donated to the campaign equals three meals. Many big names in the Houston area like Mattress Mack, and Houston Texan receiver Randall Cobb, have donated to the cause.
Not only has Bregman worked hard to get more money to the Food Bank, but he has used Twitch as a platform to get the word out. Twitch is an online website where you can watch live streams of people playing various games among other things. Bregman recently streamed himself for 24 hours while playing video games, in order to promote his cause, with all the proceeds going to the FEED HOU campaign. Bregman had various guests on the stream throughout the day like National League MVP Christian Yelich, former Texan star Deandre Hopkins, and Astros player George Springer.
"We figured everyone's playing video games right now," Bregman told local NBC affiliate KPRC. "Might as well try and play some games with people from Houston that would like to help out and raise money." 
To donate to the FEED HOU you can send a text message to the number 41444 or visit alexbregman.com for more information.