Emery Sports Are Back in Action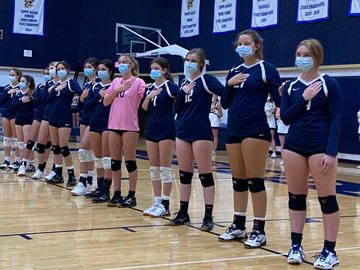 Emery Jaguar fall sports programs are underway and have started playing. The volleyball team has competed in a few district games, and the football team is going into their third game. Playing sports at Emery this year will come with many protocols and rules for athletes, coaches, and spectators to follow. Here is a look into what athletes and coaches go through on a daily basis to make sure they can have their seasons.
Emery athletes must pass a multi-step check-in every day they come to campus. Students must first complete  School Pass, which is a set of questions to make sure their attendance on campus is safe. Questions relate to any possible symptoms they have had, or if they have been around anyone who has been COVID positive in recent times. Once the School Pass is completed,students undergo a temperature check, and  receive a wristband telling coaches and faculty that they have passed the COVID protocol for the day. To ensure there is enough space for physical distancing, Emery has rented coach busses instead of the usual school busses on road trips. 
Emery football kicked off the 2020 season on September 24 against Grace, in a game with no fans in attendance. This was the first time in Emery football history that the attendance was zero, and it was very weird to the coaches and players.
Senior QB Doran Yustein thought "it would be weird, but having the cheerleaders in attendance definitely helped." Head Coach Jason Reimers thought similarly to Yustein. 
"When the lights came on, it was definitely a little weird seeing the stands empty, but we are looking to phase into allowing spectators for future games," said Reimers. While the football team has only played 2 games, Emery volleyball is in full swing already played 6 district games. 
Senior Simone Newar feels the season "hasn't been much different besides wearing our masks and changing how we travel to road games." Newar later mentioned that she sometimes does not notice she has a masks on and is thankful for the opportunity. Like Newar, Senior Carly Schneider is just happy to be on the court, playing the game she loves.
"It is definitely worth taking all the protocols that we have been considering in order to allow us to safely play volleyball during a pandemic," said Schneider. 
This seems like a hassle for the athletes, but the opportunity for these student athletes to compete on the field considering the circumstances is a blessing. With Jaguar Athletics in full swing, it will be an exciting time to watch our fall sports teams compete despite the challenges brought on by COVID 19.