Dodgers World Series Victory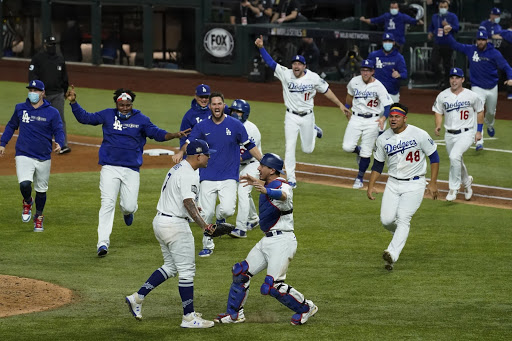 On October 27th, the Los Angeles Dodgers defeated the Tampa Bay Rays in Game Six of the 2020 World Series. Due to a shortened season, this year's playoffs were expanded, resulting in six additional teams making the playoffs, and the winner of both the American and National League met in Arlington, Texas, to face off in the World Series. 
The Dodgers, winners of the National League West seven out of the last eight years and competitors in three of the last four World Series, won their first World Series since 1988. This year's World Series was only the second appearance for the Tampa Bay Rays, having earned their first spot in 2008. 
Throughout the six-game series, the Dodgers mashed twelve home runs and scored thirty-two runs. Led by World Series MVP Corey Seager, who hit two homers and had a .400 batting average, the Dodgers showed no weakness in their lineup. 
The Dodgers offense was not the only strong part of the team, however. The Dodgers' pitching showed up and overwhelmed the Rays' offense, as future Hall of Famer Clayton Kershaw pitched eleven and two-thirds innings while giving up only three runs and striking out fourteen batters. Pitchers Walker Buehler and Julio Urias both gave the Dodgers meaningful innings and struck out a combined twenty-three batters. 
Senior Alex Lavine, a die-hard baseball fan, acknowledges that the Dodgers' World Series win "is good for baseball" and the Dodger's success "should bring more fans into the game since the Dodgers are so flashy and popular." Lavine says the Dodgers' winning was good for baseball because of where they play and what they represent and creates a warm feeling for baseball fans around the country. 
With an unprecedented season due to the coronavirus pandemic, the Dodgers World Series victory adds a sense of normalcy with the season-ending with a declared champion. This year's World Series gives Dodgers fans excitement over their team's victory and provides baseball fans around the world an exciting World Series and a season with finally some certainty about who would take home this year's Commissioner's Trophy.