The New Schedule: Changes and Adjustments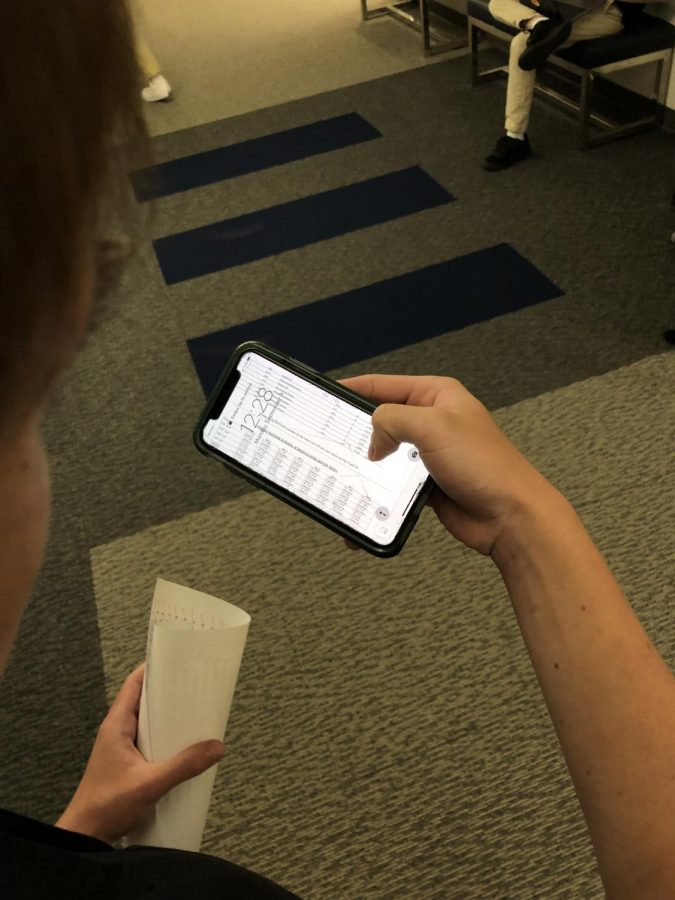 Every new school year brings new changes and adjustments; for Emery students however, everyday life at school is new this year. During the final few weeks of the 2018-2019 school year, the Emery administration introduced a new schedule that would take effect in 2019-2020.
The old schedule was a repeating schedule that was days 1-4, with a day 0 in the middle. On days 1-4, students had six classes that were 49 minutes long, but on a day 0, a student had all eight classes that were 40 minutes long. On the other hand, the new schedule is a ten day rotation, with eight days of rotating 50 minute classes and two days of four classes that are 70 minutes long. During the eight day rotation, lunch is 30 minutes long and "Flex-Time" is an hour. Most of the students and teachers are struggling to adjust. 
Some students feel that the new schedule has taken away social time, time to relax, and time to do homework. Junior Cassidy Rubenstein has a problem with how short lunch is. "When you're in Flex-Time you think it's snack so you're not going to do any homework, like you would do during lunch," Rubenstein said. "And lunch is so short it's like you eat, you breath, and you leave." While some students liked doing homework during the previously extensive lunch, others preferred to have meetings with their clubs. With the 30 minute lunch, however, Seniors Morgan Brandt and Joelle Sokoloff are struggling to find meeting times with their respective clubs.
Although some students do not like the short lunch period, Senior Marisa Reichstein sees some positive in it. Reichstein does admit that the short time for lunch is frustrating, but is "pretty sure [the seniors] are going to get senior privileges to leave campus first semester so it will work out for me in the end." 
Not only is lunch frustrating for students, but teachers are also having a hard time adjusting to the shorter time. English Teacher Diane Hursh has been adjusting to this change accordingly. Hursh has been trying to figure out what to do when "there isn't the opportunity to follow up [in class]" but is going to try Flex-Time instead.
"The hardest thing to adjust to is the shorter lunch," Spanish Teacher Tanya Meinecke explained, "and sometimes it feels possible to shorten Flex-Time and lengthen lunch." Meinecke, along with many students, want to see this change. However, Director of Instructional Technology Josh Blice does not see that happening anytime soon. "The schedule is specifically designed that way and the time between 10:25 and 11:25 had to match the middle school," Blice explained. He would "love to switch it a little bit, which sounds easy," but "the alignment would all change."
Even though lunch is a big adjustment, the biggest change is going from a schedule with five unique days that corresponded to the days of the week to one with ten unique days, with classes constantly rotating. Since the classes rotate, there is no specific pattern, giving students trouble in memorizing their schedule. Rubenstein liked the rigid structure of the old schedule. "For your morning classes, you have a morning mindset for them, and for your afternoon classes, you have an afternoon mindset. You get used to where your classes are and how you are in those classes so it's not as wonky." However, Reichstein likes the new schedule precisely because classes aren't relegated to mornings or afternoons. "And," she added, "this whole two hour flex-time, hangout, naptime is really nice." 
While students have differing opinions, teachers seem unified on the constantly rotating schedule. During her time at Emery, Hursh has gone through four different schedules and doesn't mind the rotation. "It gives me the opportunity to see kids at different times of the day," Hursh said. Rotating through the days keeps things fresh for her, and she knows it is good for students. "Research shows that when kids have variety, it causes them to be a little bit more aware of what's going on," she said.
Along with Hursh, History Teacher and Department Chair Dr. William Epps has been through a variety of schedules at Emery. Epps also likes the rotation. "The nice thing about this one is that all the classes cycle all the way through so that H period isn't always at the end of the day or A period isn't always the first period of the day," Epps said. 
The Emery administration had a method behind the schedule's creation. One of the top priorities was to get rid of day 0's because she saw that they were "challenging for both students and faculty, but more for students," Dean of Students Dana Aboulafia said. "By the end of the day, [students] were tired and weren't enjoying what Emery has to offer." In Blice's eyes, the change was necessary, but for different reasons. One of these was the Middle School.  
"As [Emery has] grown, we have more and more students taking upper school classes and teachers crossing over," Blice said. "The new schedule allowed for that." The old schedule made it far more complicated.  "[Teachers] taught their middle school classes in the morning rotation and the upper school classes in the afternoon rotation," making it "very difficult for [middle school students] to take classes like Spanish and geometry," Blice explained. "The main goal was to align both divisions and to do that, we had to look at a full-day rotation." Instead of day 0, the new schedule has days 9 and 10; these days, students have four classes that are 70 minutes long. 
Since normal classes are 50 minutes long, teachers have to adjust their teaching plans accordingly to fit the 70 minute class time. The day 9 and 10 idea came to be because "the sciences and advanced classes wanted more time with their classes," said Blice. During the regular 50 minute classes, science teachers did not have enough time to complete a lab. However, Upper School Chemistry Teacher Courtney Malbrue admits that while these days will be helpful to complete a lab or to have additional teaching time, but it isn't a guarantee. "It is difficult to say that every Day 9 or 10 there will be a lab," Malbrue said, "because sometimes it doesn't fall that way in terms of where I am with content." Like Malbrue, Hursh, Epps, and Meinecke are making adjustments. 
Hursh is being "very intentional" with Days 9 and 10, and Epps and Meinecke also have their teaching plans figured out. Epps will be using Day 10 to practice Data Based Questions (DBQs) with his Advanced US History class. "We used to have to do that during Ha'ashara," Epps said. "If you had extended time on the AP [exam], your DBQ started at 7 am. Now if you have extended time on the AP, your DBQ starts 20 minutes before that first period." While Epps is using the day for AP tests, Meinecke feels that "it's kind of neat to combine the intro to something, learning about it, and then an accumulating activity because on most days we don't have time to do all of that in one day."
The new schedule avoids most of the issues Emery ran into in the past. In order to make the schedule the best they could, it took the administrators two years for it to truly come together, wanting to wait until it was perfect to release it to the student body. Now that it's in place, all Emery needs is time. "There will be a learning curve," Hursh said.