Dear COVID-19: the Seniors Have Something to Say
Dear COVID-19, 
It is nearly May, and we are impatient. We watch you from home as you spread your highly-contagious disease, as you wreak havoc on the national economy, as you stop the world. Global as your sights may be, we worry you have overlooked the impact your rampage has had on the collective American senior class.  Like many other graduating high school students, we are running out of time. 
We have one month left to say goodbye to the people who we laughed and cried with for the last four years. One month left to cement our high school memories, one month left to dress ourselves in a pair of plain khakis and a navy polo, and one month left until we no longer belong to the place we have grown to love fiercely over the past four years.
Maybe you aren't aware of the memorable moments you so quickly obliterated. We're sure, amid your plan for world domination, you didn't take time to consider how you would take away Senior Prom, Senior Prank Day, Senior Skip Day, Gag Day, and Passing the Torch. As a class, we cannot overlook these jeopardized activities.
We will not soon forget the moment in the beginning of last May when the Class of 2019 passed the torch to the Class of 2020. Standing on the stage in the Becker Theater, our classmates demonstrated our preparedness and eagerness to finally experience "the greatest year of high school".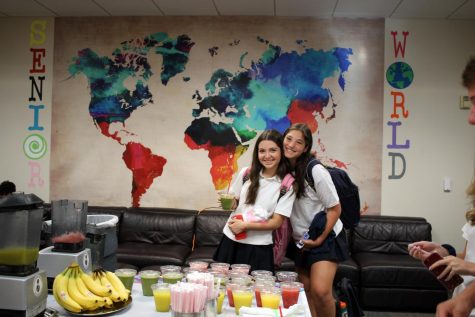 We experienced more than half of our senior year, basking on the cushy couches of the Senior Lounge and racing back to the front office to sign in after lunch, ensuring that we did not lose our Senior lunch privileges. We finished college applications, and a vast majority of students decided which college to attend in the coming months. Others haven't, and a couple are nervously waiting to hear more details. 
In one week, we will say our permanent goodbye to high school. We won't check Blackbaud for our weekly assignments, we won't rush to the computer lab to print out our essays before class starts, we won't text one another and ask if they've finished the homework due the next day, we won't sit down in the blue chairs at the gray desks and pull out our binder and only pencil when the second bell rings. We won't plop down in the front rows of the Becker for Ma'amad, we won't mingle in small groups at the picnic tables as we eat our lunch, we won't gossip with our teachers in the hallways, and we won't stop by Mrs. Aboulafia's office every hour to pick up a few pieces of candy.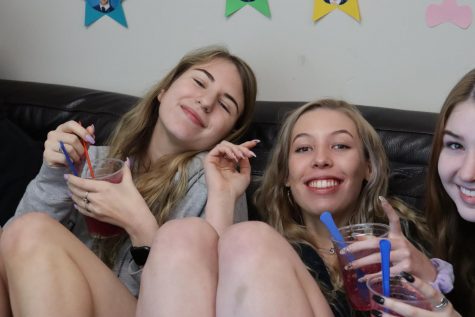 The second semester of our senior year is a crucial time. And the news that you will prevent our return to school—that our last day of high school passed without the anticipated farewells and acknowledgement of the moment—leaves us distraught and uncertain of what to make of our lost time.
We know this intense disappointment permeates throughout the senior class. 
Some are blunt and concise in their reaction. "It sucks," Alice Morrison expressed, and Tomer Oren bemoaning the situation as "poopy." Jake Cosgrove exclaimed that the coronavirus outbreak has "SHAFTED" his expectations for second semester senior year, which also left Samuel Hausman-Weiss "[q]uite annoyed". 
Some are understably devastated at the loss of irreplaceable opportunities. "[I'm] really upset about everything that has been or will be canceled for us," Morgan Brandt said. "We will never have another chance." Passing the Torch, Prank Day, Prom, Poland and Israel; "these are [milestone] events," Julia Strug explained. "We may never experience them."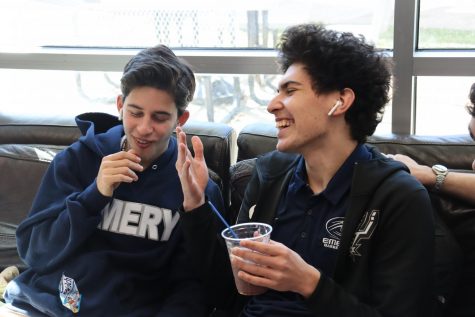 "We've been waiting our whole Emery careers for these milestones," Maya Zehavi agreed, "and to not have them is depressing and disparaging."
That sadness echoes across the class. "It makes me extremely sad," Claire Lemel admitted. "I cry whenever I think that senior year could be over."
"I am so so so so so sad," Rachel Buxbaum wailed. "I can't believe my senior year is taken from me." 
"Really sad to be missing out," Noah Pacht confided, specifically mourning the disappearance of much of his "last year with friends before college."
"We've been working so hard for 12 years," Alegra Germain said, "and to have all of the special events and milestones that come with being a senior taken away from us feels like we're being robbed."
Others also expressed anger at that same sense of unfairness. "I feel robbed of a senior year because we don't get to experience what every other class has," Jenna Talisman said. "Everything that you looked forward to was taken away," Kate Jacobson emphasized. 
"It ruined our senior year," Leah Fields summarized.
Several seniors connected their loss to broader insights about lasting implications. "It has taken a lot of what defines the Emery difference from us,"  Livie Golub said. The crisis has put a lot in perspective for the senior class, particularly how futile it can be to have expectations and plans for things.
"These few months were supposed to be a time for me to create final memories with people I cared about before moving to Israel and being separated from my American life for a few years," Rebecca Bernstein explained. "To not have these memories moving forward and to potentially not say goodbye is absolutely crushing."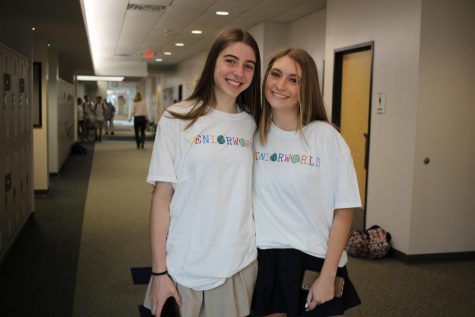 Some seniors pointed out that part of the injustice lays in what has replaced their previous expectations—Distance Learning. "[Now we all have] a lot more work and a lot less fun," Maria Dobroskok said. For some, like Olivia Robbins, it's "way too much work." 
The adapted assignments aren't the only issue, though. Many are overwhelmed and struggling to adjust to our new isolated senior year. "It's taking a tremendous toll on how we live our lives and proceed with our daily schedules," Talisman said. "[I'm] in disbelief," Avi Moses admitted. And for Jamie Anhalt, there are "too many emotions to process."
But our class knows that you cannot take everything away from us, COVID. Even amid our sorrows, our empathy thrives. The losses resulting from social distancing are "sad but understand[able]," Jadyn Grossman said. "It definitely sucks," Roza Spencer acknowledged. "But I feel bad complaining about missing trips and prom while people are dying."
Julia Strug helped put our sadness into perspective. "[T]here are many other people being affected greatly due to Coronavirus, and I can't even imagine what they are going through."
Through this all, the moments of optimism remain. Spencer values the extra time with family before she leaves home for college; though Bz Graubart misses interacting with others, she is excited to "get a lot of quality crafting in."
We pride ourselves in the connection that our grade has, certain that our outlook of creativity will inspire us to still make something meaningful.
See COVID? We preserved the diversity that defines us. You have yet to defeat our spirit. We may miss the chance to again engage with our exuberant peers in the hallways or with enthusiastic intellectualism in the classroom; we may miss blaring music in the senior lounge; we may miss spreading our abounding passions campus-wide; but you can't stop us. We are channeling our sadness at not being able to return to school into creative solutions for how to regain lost memories quintessential of the senior experience. 
At the start of April, many in the class still held onto hope for the opportunity to replicate senior activities as best as possible on a later date; the same number were willing to convene over the summer for senior programming. Students proposed a summer prom and summer passing of the torch, a virtual "trip" in May, a senior lock in the first week of June, and rescheduling the Poland and Israel trip for this or the following summer.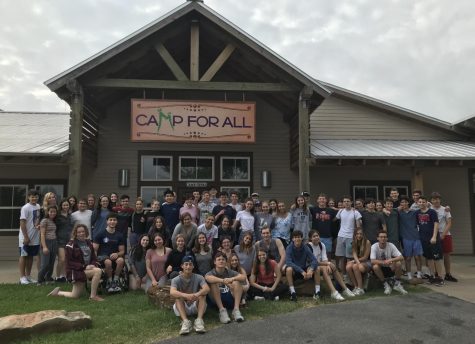 And we have plans for Commencement, too. Maybe a Commencement ceremony limited to seniors and administrators, or a full blown ceremony postponed to late summer—something the majority of students would prefer over a ceremony with restricted attendance the first week of June or an on-schedule virtual graduation ceremony. In fact, when we polled our class, the vast majority of students expressed their vehement opposition to a virtual Commencement. 
COVID, we know that you love to replace in person events with digital gatherings, but our grade knows the power of direct human contact. We are a patient bunch of students, and we intend to wait you out rather than lose another summative teenage experience to the computer screen. 
Fortunately, our administration and school leaders agree with us. In the afternoon of April 22, the Head of School Stuart Dow, Dean of Students Dana Aboulafia, and other administrators addressed the Class of 2020 and their parents, proposing a path forward that mirrors many of the seniors' hopes and expectations, with a few additions.
After submitting their final assessments and completing their academic study for the semester on May 1, seniors will have the option to log onto virtual ancillary classes, taught by a range of faculty, designed to foster community while providing engaging non-academic content. Though a full schedule has yet to be released, likely examples include baking with your sparse quarantine pantry,  yoga and mindfulness, college preparedness, explorations of literary dystopia, and film criticism. 
To little surprise, the unpredictability of the end of social distancing leaves the administration with no definite plan for Commencement and senior activities. But Aboulafia has devised a promising program she calls "Senior Week"—a week, if not the first week of June, then the first week of August, in which seniors will congregate on campus for adapted versions of lost senior activities.
The administration assured seniors that a virtual commencement would be an absolute last resort. Dow expects either a limited attendance Commencement in early June, held on Helfman Field with students and immediate families spaced six feet apart, or a ceremony— limited or full attendance, depending on state and federal guidelines—the first week of August. Dow's  primary goal remains crafting a "personal" and "meaningful" final experience for the class, a goal we seniors all share. 
As we eagerly set these plans to preserve our community by replacing all that we lost and to graduate from this institution during your pandemic, we know our attitudes and insights have been forever shaped around you, COVID. 
When we left school back in mid-March, many of us anticipated that this was the end of high school for us, despite many teachers who doubted your strength. For those of us with the most at stake, we always understood the threat you posed, the ways you would transform our plans for these last transitionary months of our lives. But what we also understood—and understand even more clearly now, during our last week of academic high school—is that you will not end smoothly, simply. As seniors, we know we enter a world of uncertainty, a world where the normalcy we envisioned for the Spring, the Summer, the Fall, the years to come is in jeopardy. 
Yet, we are proud to come of age in the time of your disruption because you have taught us that our creativity and resiliency can more than withstand the crisis you have wrought on us all. As young adults, we have a vision of what our future should look like. And we are prepared to reimagine our dreams, our paths, our studies and careers to still fulfill the lives we envisioned leading… just, now, in a way that looks a little different than we expected. 
When you struck, we refused to walk away from Emery as if this was the end – no more community and passion and collective excitement for the culminating experiences that serve as a testament to our work and growth over the last 18 years. We made do, and we made unique moments. So when we look back upon this period of our lives, we will remember the devastation and disruption, yes, but we will remember our choice to rally together all the more vividly.