Jaguars Begin Sports Season Through Adversity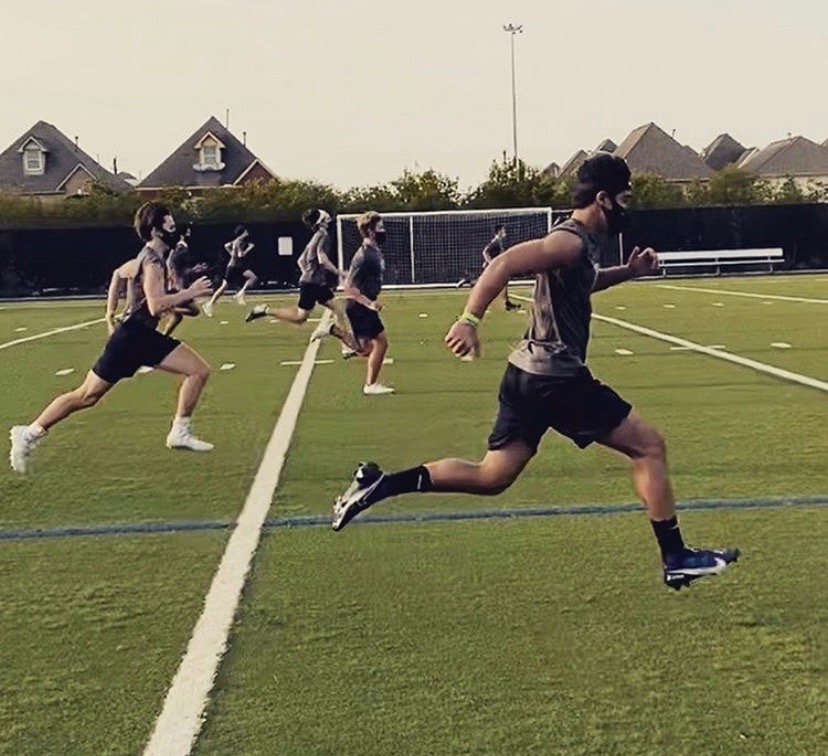 While students have been at school in their houses and behind their screens,   fall sports teams have busily been preparing in-person for the fall season.. Football, volleyball, and cross country teams have returned to play and are getting ready for their respective seasons. The first few weeks of workouts were a learning curve for everyone, as COVID 19 has brought certain protocols that the teams must follow. Athletes who arrive on campus must get their temperature checked, wear a mask, and maintain social distancing at all times. 
Last summer, Athletic Director Angie Gubitz met via Zoom with the Emery coaches five to six times a week to form plans on how to handle the back-to-play policy the Texas Association of Private and Parochial Schools (TAPPS) put in place. It "was a weird situation as we were waiting here from TAPPS as well as other schools in the area to come up with a plan to try and mitigate the risk as much as possible," said Cross Country Coach Matt Holcomb.
Holcomb later mentioned that the cross country team began their runs early in the morning while wearing masks and staying distant from each other in order to be "as safe as possible while getting ready for the upcoming season." Due to the inactivity of sports since March 13, Emery hosted voluntary workouts for all fall sports that began on August 17th. 
The voluntary numbers across all sports were" very encouraging" according to Holcomb, as "every team had their full squad because everyone was excited to get back to work." The defending State Champs took the field at Helfman while being 6 feet apart and wearing masks, partaking in conditioning to get ready for the year.
"We are really thankful to get into pads and play again given the circumstances.  It's been a really long time since we have been out on the turf at Helfman, and we are ready to protect the title," said senior wide receiver Kian Bobrow.

While the football team is getting their work in on Helfman, the volleyball team is preparing for the season in Kosberg. The volleyball team led by head coach James Fuller started their workouts on August 1st outside on the Sport Court due to the virus. It has been a long journey to get to the point of being able to practice, and Senior Bergen Friedman said "we are thankful to be playing during this time, and are looking forward to a great season." 
TAPPS Competition is scheduled to open up with the first Cross Country meet of the year on Sat., Sept. 12th. The Football team is scheduled to begin their slate with a scrimmage on Sept. 24th, and the volleyball team's first game will be Tues., Sept. 15th.