Natural Disasters Striking America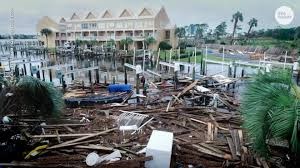 In the last week, natural disasters plagued both sides of America, as the East Coast was pummelled by a Category 2 hurricane and deadly wildfires engulfed hundreds square miles of the Pacific Northwest. Hurricane Sally made landfall in Gulf Shores, Alabama on September 15th as a Category 2 hurricane, and the storm traveled all the way from the Florida panhandle to Louisiana. Nearly 2,220 miles west, wildfires burned out of control in a region spanning from  Northern California to Washington State. Since the middle of August, firefighters have been fighting the wildfires that are causing damage to land and the air. Commenting on the severity of the fire, California Governor Grant Newsom said, "We have more people, but it's not enough."  Newsome acknowledges the help that the state is receiving, and the efforts of extra firefighters coming to help fight the fires. 
In California alone, the National Interagency Fire Center reported that nearly 6.7 million acres have been burned from this season's wildfires. Many counties have ordered mandatory evacuations to keep the general population safe from both the fires and the dangerous air quality.
 In parts of California, the Air Quality Index registered above 100, compared to the average air quality in San Francisco that registers around 40. Senior Bella Deutser, who spends a lot of time in California, said, "The fires are so sad and have damaged parts of my family's home in California." 
Deutser is passionate about the environment and wants to see change in attempts to clean the polluted air. Deutser said, "If people spend less time in their cars, that will help add less air pollution, as well as burning materials."  
While fires raged on the West Coast, nearly 2,220 miles away, Hurricane Sally made landfall in Alabama, causing  significant damage from the Florida panhandle to eastern Louisiana, leaving nearly 50,000 residents without power loss and parts of the impacted region inundated with  up to 20 inches of rain. Two deaths were also reported.
It is not often Amricans see multiple natural disasters at the same time, and in the midst of this year's hurricane season and wildfire season, two different regions are faced with challenges of recovering from their respective natural disasters. It will take time for the fires to be contained and perhaps even more time for the communities that were affected by the hurricane to fully recover, but both regions will persevere just like they have done in the past when they respectively face fires and storms.