Will 2021 March Madness Be Madness?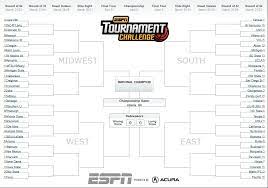 Every year when March rolls around, hundreds of thousands of people look forward to March Madness. Every year,  the 64 best Division I schools in the country gather to fight for the championship.   The initial 64 teams play 32 games over two days, and the winners move on to the next round and the losers go home. After the first round comes the , round of 32, then the Sweet Sixteen, the Elite Eight, and ultimately the Final Four.  The winners of the two Final Four games will meet in the National Championship. 
One way non-players get involved is by competing in the the ESPN Tournament Challenge. ESPN started the Tournament Challenge as a way for people to try and predict how they think this month of basketball games will go and have a chance to win some money doing it. 
Everyone who has access to the ESPN website has access to this challenge and has the chance to make as many brackets as they want for a chance at the prize, valued at roughly $18,000,000. Each person goes round by round, game by game, team by team, and does all the necessary research to try and make the bracket that they think will be the most accurate out there. It is something that people look forward to and strategize for every year, including many current and previous Emery students. 
Freshman Matthew Mintz described his process for building his draft as "looking and seeing that a team has played, like, exceedingly well. Take a team such as Loyola Chicago.  We know they have done it before, and I know they have a chance to win again because they know how to do it," Mintz says, "Think about teams that are very hot, like Oregon State. They had just won the PAC-12 when they were one of the worst teams in the PAC-12. This momentum usually carries over into the tournament. Also, some teams play in ways that would allow them to win."
Everyone's bracket is different. Some people base their bracket on rankings or the history of the team in the tournament, but for Junior Doran Yustein, it is all about the experience. He says he looks at "if a team is led by lots of seniors.  If it is, then I'll usually take them over a team with all freshmen even if the freshman team is higher ranked."
Class of 2018 Emery Grad Joe Sondock, takes yet another different approach with his bracket. He said he "definitely look for star power on the team. Ya know draft rankings and such but also for these small schools who was their best player. If those guys win conference player of the year I usually take that team."
 Class of 2018 Grad Jake Feldmen goes at it a completely different way, throwing out the research and going off of what he has seen from these teams during the season. He said "I watch a good amount of basketball during the regular season so a lot of its eye test"
March Madness is a time where people compete with each other. Whether it is the teams on the court or you and your friends in a bracket challenge, this is a time where people go head to head to test things like knowledge of basketball and guessing skills (for guessing upsets).