Tikkun Olam in Tanzania
This summer, a group of Emery students and faculty members ventured to Moshi, Tanzania on a 2 week long service trip that encapsulated Emery's mission for its students – personal growth through Tikkun Olam, or "repairing the world." The group spent their time teaching, volunteering, and bonding with the children of a local school founded by an Emery alum, and returned home with invaluable experiences and a broadened appreciation of the world outside of their immediate communities. 
The group, consisting of 6 students, 2 teachers, and one parent chaperone, spent most of their time volunteering at the Uru Academy school for children of all ages. The school is a part of the umbrella organization, NEEMA International, founded by Emery alum, Mandy Stein. A group from the Emery community travels to Tanzania each summer to support Stein's humanitarian mission by volunteering at the school. Each traveller had different reasons for attending, but all of them worked towards connecting with the kids and doing whatever was necessary to help the school. 
It was senior Abigail Goldman's second time on the Tanzania trip, and she originally went in hopes of gaining a "broadened world view and experiences outside of the bubble of [her] community." After an amazing experience the first time, she returned this past summer to further the "personal connections made with the kids of the school," specifically Lucrecia, the kindergartener Goldman sponsors. Goldman described that "it was amazing to get to see Lucrecia and spend time with her on the trip, because I hadn't seen her since the last trip two years ago. She has grown up so much."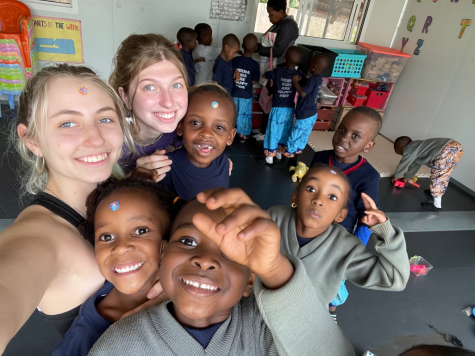 On the other hand, Emery math teacher Jacob Guidry entered the trip not knowing what to expect, but "ready to do whatever was needed of [him] at the school." Guidry spent his days teaching math to the older students at the school, and worked on encouraging the students to "ask questions and engage with the material, voicing their struggles when they had difficulty." Guidry noticed the "old school imperial" style of teaching that the Tanzanian students were used to, and wanted to share some of his progressive classroom ideas with them. After spending two weeks with the students, Guidry left Tanzania feeling like he made an impact, as she shares that he "received messages from almost every person of the school saying thank you."
Both Guidry and Goldman agree that the most life changing part of the trip was learning to be "outside your comfort zone." Goldman described that being in Tanzania is "completely different than being here and it is out of many Emery student's comfort zones, so I think so many people at Emery would benefit from this trip." 
Even though the trip is a novel experience for many Emery community members, Guidry believes that it "defines what Emery is all about." Guidry adds that "the mission statement of emery is about Tikkun Olam and growing as a person by helping your community, and that is what this trip focused on – repairing the world and becoming a better person."
After coming home from this life changing experience, both Guidry and Goldman highly recommend this trip for anyone who has the opportunity to go.