A Look Into the 2022 Senior Directed Productions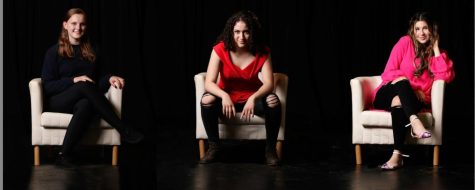 Emery theatre will host its annual Senior Directed Productions on Jan. 22-23, where seniors Anna Kate Cooper, Olivia Novak, and Julia Yanosik will showcase the productions they directed for the Emery community. 
Senior directed Productions are a long-lasting Emery Theatre tradition in which chosen seniors produce a show on their own. During the second semester of their junior year, students are introduced to the opportunity and given a chance to apply. After reviewing the applications, the theater department heads choose which seniors will move forward with directing their own productions.
The chosen students participate in an elective with Emery Director of Fine Arts, Jennifer Bauer-Conley throughout their senior year to prepare for their productions, from casting to rehearsing. In this elective, Bauer-Conley teaches the students the ins and outs of directing, including how it differs from their previous experiences as actors. Bauer-Conley hopes to give the seniors a "360° view of everything" that theater has to offer by giving them the knowledge of directing. Novak, director of Emery's senior production of "Threads," describes the course as "a chance to experiment," as the students are able to build a show from the ground up.
The senior directors choose which production they would like to showcase, giving them an opportunity to explore their creativity. This school year, the three seniors each chose vastly different productions representing complex themes, from a series of diverse monologues to a piece centered around clothing, to a self-written piece about the complexities of a relationship.
Casting for the Senior Directed Productions took place in early Oct., where students of all levels of theater experience level and backgrounds came together to audition for the shows. The seniors casted a total of 13 upperclassmen and three stage managers to work alongside them in this process. 
Director Yanosik wrote her production "Meet Me in the Clouds" over the summer, which portrays the complex relationship of two characters from their childhood to adulthood. Yanosik explains how the show "takes from [her] life experience, as the characters are not based on [her] life, but what it means to have a friend and what it means for that relationship to change over time" – a subject matter many can relate to. 
Cooper's production, "Confessions," differs in that it is a compilation of six monologues written by playwright Neil Labute. Cooper casted six actors to dissect and perform the monologues, which focus on various life themes, from parental and relationship issues to personal struggles. Cooper is "excited to showcase a bunch of different themes and characters, all within the span of 20 minutes." 
Novak, the final senior director, is directing a production entitled "Threads." According to Novak, the storyline "mainly focuses on the inner monologue of the main character, Stevie, who is trying to express their inner anxieties of what clothing they want to wear, and how people will perceive them based on the clothing they are wearing." She "thrilled" to be portraying such a complex and important theme, as it is "most meaningful" to her. 
The series of productions will take place in The Emery Weiner School's Stolbun Blackbox Theatre. Tickets are free, however, seats are limited.
Cast and Crew:
"Confessions," directed by Anna-Kate Cooper: Emma Barber, Marissa Bishop, Evelyn Burt, Ethan Canfield, Audrey Hochglaube, Meier Turboff
"Threads," directed by Olivia Novak: Hannah Dunnam, Hannah Hu, Brooke Lee, Maddy Rose, Claire Parry, Ellen Weinstein, and Jeremy Weinstein-Sears
"Meet Me in the Clouds," directed by Julia Yanosik: Dani Barg, Daniel Chai, Charlotte Goldstein, Bella Phelps, Gabby Samuels