Down Goes Bama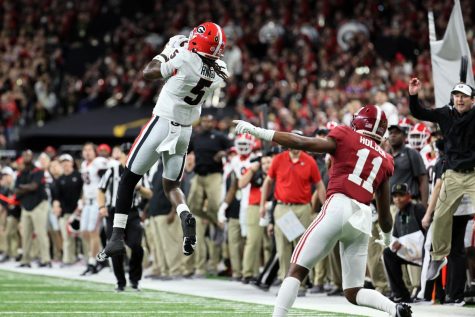 The hearts of University of Alabama football fans shattered on Monday Jan. 10, when University of Georgia cornerback Kelee Ringo intercepted Heisman trophy winning quarterback Bryce Young's last attempt at winning the College Football National Championship. This pivotal sequence led to Georgia bringing a win back to Athens, Georgia, a breath of fresh air for college football fans after many years of watching the same teams in this game. 
This was Alabama's ninth appearance in the National Championship since Head Coach Nick Saban took over for the Crimson Tide in 2007, a much better track record than their opponent. Despite their National Championship appearance against Alabama in 2018, this is the Georgia Bulldogs' first National Championship win since 1980. 
With this win, Georgia's head coach Kirby Smart is Saban's second ever former assistant to beat him in any game. "I was a part of it for nine years and saw it. And I know the preparation that goes into national championship games," explains Smart. "I mean, [Saban] doesn't lose many national championship games when he has that time to prepare," Smart told the Athens Banner-Herald, which makes his team's win even more impressive. Smart continues, "There were a lot of battle cries throughout the year that our guys personified for the state and for the people of the state," that this win was meaningful not only to Smart and his team, but the state of Georgia as well.  
Emery's head football coach and Texas A&M alum Samuel Costello watched the game and shared that it was "a great college football matchup. For most of the game, it was pretty even, but you could see Georgia's defense starting to take control on Alabama." He believes Georgia sealed the deal with their strong offensive and defensive linemen "controlling the game," and underdog quarterback Stetson Bennett doing "just enough to get some points on the board and pull out the game." 
Emery Jaguar and All-State varsity quarterback Doran Yustein also watched the game and thinks that "It was a very defensive game in the first half. Then, in the second half, it was crazy to see a walk-on quarterback outplay the Heisman trophy winner to lead them to victory."  
This year, Georgia played a phenomenal season, boasting a top tier defense and remaining undefeated until they fell short to Alabama in the SEC championship losing 41-24. Luckily for the Bulldogs, they regrouped after their first loss of the season to take a successful second stab at Alabama in the National Championship. Whether or not they will repeat next year remains to be seen, but nonetheless, this year's season can be appreciated for the excitement it brought to the state of Georgia and Bulldog fans across the country.