Winter Sports Update 2022
The winter sports season is well underway, and before teams make their late playoff push, this is how our teams are doing so far.
Soccer:
Girl's soccer has had a noteworthy start to the season holding a 7-6 record, and are currently 4-2 in district play. The team, led by senior captains Sophia Atkins and Lauren Haas, looks to continue dominating the competition with high-scoring wins after a triumphant 22-0 win over district opponent Cristo Rey. However "district play has started off rocky," shares junior defender Elsa Koenig, as the team started off 0-2 in district play but has since recovered, winning 5 out of the last 6 district games. They hope to make it all the way to state this season, after a devastating loss in the quarterfinals of the playoffs last season. 
Boy's soccer is having a turnaround season this year compared to lackluster seasons in the past in part due to the new head coach, Joven Longer, helping the boys get off to a strong start. "We have been improving every day in practice," says junior forward Rafa Sharpe, a testament to new tactics and strategies put in place by Longer. With this improvement, they have started broken even in district play so far with a 3-3 record. Seniors Tomas Spencer, goalie, and Aryan Prakash, forward, have also contributed to the team's improvement as they look to continue to win games and make the playoffs. 
Basketball:
Varsity boy's basketball has been off to a shaky start with a 7-11 record, and head coach Kevin Lewis has described their season so far as "challenging." The team has had a multitude of close finishes but hasn't always been able to secure the victory. The Jaguars are very young but are being led by senior captains Justin Bolton and Lior Melnikov. In Lewis's second year, the "culture has changed" and "teams are scared to play us now," says the head coach. The team is hopeful they will finish district play strong and secure a spot in the playoffs for the second year in a row.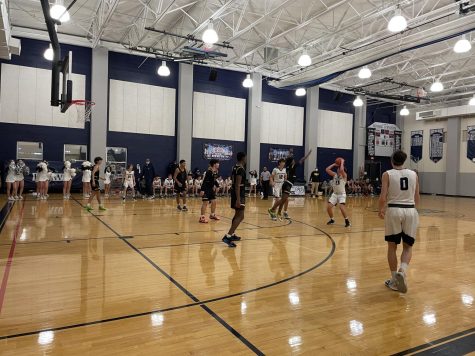 The varsity girls have also had a slow start this season with one of the toughest district schedules in TAPPS, and are currently holding a 2-11 record. Senior Noa Strauss and Juniors Leah Samuels and Brooke Dell'Ario are leading the team this year. Samuels "looks forward to watching the young players grow this season", as the team only has 5 upperclassmen. The future is bright for the girl's basketball team, and hopefully they can make a late push for back-to-back playoff appearances.