Spring Trips are Back and Better
For the first time in two years, Emery Upper School students traveled on their spring trips. The Freshmen went to Big Bend, the Sophomores went to Los Angeles, and the Juniors went to the Deep South.
The freshman class recently embarked on their annual Big Bend trip. Due to COVID-19 restrictions, the class was unable to stay at their usual campsite in Big Bend National Park, but they pivoted to find a campsite within the state park.
Another core difference between this year's Big Bend and past years was that this year's class could not hike Emory Peak due to restrictions. Mounting this peak is usually the culminating experience of the trip, giving students a sense of accomplishment and a chance to bond with their class throughout the hike. However, Director of Experiential Education Casey Fleming explained that though "there are a lot of logistical shifts, the character and integrity of Big Bend is preserved."
Prior to the trip, Middle School P.E Coach, Angi Boudreaux was excited to see Big Bend and get to know the students outside of school. In reflecting on the trip, Boudreaux expressed how she loved seeing the kids kayak in the Rio Grande River and seeing them "persevere through difficult winds and rapids."  
Freshman Byron Strug loved Big Bend because he "got to know his classmates much better in such a unique place." Spending three nights camping was one of Strug's favorite parts because he cherished having "deep conversations with his friends in the middle of the mountains before going to bed." 
Freshman Juliette Hess's most memorable highlight of the trip was the nightly friendship circles. She said it was "amazing to see everyone support each other during the shoutouts we did." Hess describes Big Bend overall as "mentally recharging." Though the trip looked different this year, the class of 2025 experienced many of the same bonding experiences the trip is known for.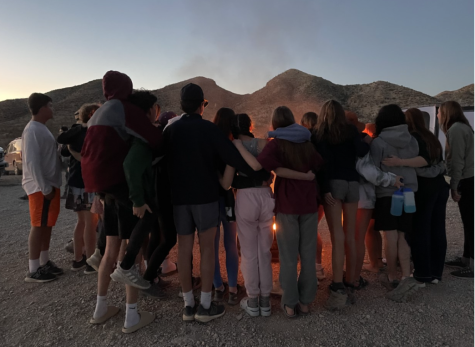 The Sophomore class experimented with a new trip for 2022: Los Angeles. The Sophomores took this trip in collaboration with an outside touring company, Tzedek America, a Jewish educational touring organization established to teach Jewish students about social justice. Fleming expressed that she decided upon Tzedek America's Los Angeles social justice trip for the Sophomores in hopes that students would start thinking about the social justice themes taught "as they got back to Houston, because of the way the cities are so similar."
The Sophomores strayed away from many popular tourist sites of the city and instead focused on places that reflected themes of social justice. These sites included Skid Row, Homeboy Industries, The Social Justice Institute, and the Holocaust Museum.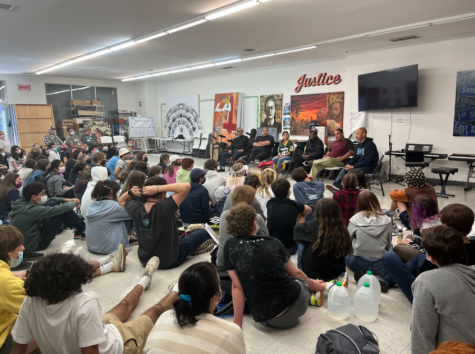 For many students, the trip achieved Fleming's goal. Lauren Miller, a Sophomore student, explained that after the eye-opening and heavy content she experienced, she now feels "empowered to volunteer for and help out with these issues in Houston." However, for some Sophomores, parts of the trip had a different effect. Some students, including Meier Turboff found the walk down Skid Row uncomfortable, and they were given no choice nor hardly any preparation for the intense excursion. However, with the proper preparation and execution of the trip, many Sophomores feel that the trip would have left them with positive experiences and teachings, rather than the negative.
The Junior class went on a trip to America's deep south, exploring Tennessee, Arkansas, and Alabama to learn about racial history in America and the Civil Rights Movement. 
On the trip, the class spoke with three decorated speakers, including civil rights activists Joanne Bland and Bishop Woods, as well as former KKK member Scott Shepherd. Junior Sammy Berman reflected that he, "enjoyed listening to Bishop Woods because he showed that anyone can overcome the odds no matter how much adversity you are facing." Many juniors appreciated that the trip included opportunities to meet and speak with these significant figures as well as see famous monuments and museums such as the Civil Rights Museum and Little Rock Central High School. Another Junior, Mimi Samuels, felt empowered while listening to Joanne Bland tell her story expressing that, "not only did she tell her story but she encouraged us to go out and make our own difference and add to her story." 
Aside from the heavy, thought-provoking activities, the Junior class was also able to unwind with the Grizzlies vs Pelicans basketball game on the third night of the trip and spend time exploring Beale Street.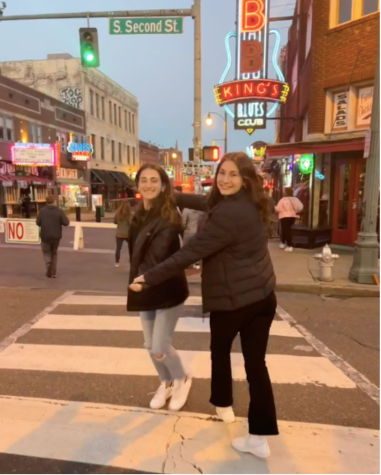 Emery students spent the week of spring trips participating in experiential education where they learned about social justice, compassion, empathy, and building community. In a time where so much has been taken away, the return of trips was a refreshing experience that allowed Upper School students to enjoy themselves, and for Emery to return to its focus on learning outside the classroom.