The Peacocks Decided to Fly
March has delved into madness once again. Brackets are busting and upsets are breaking the hearts of fans everywhere. In a tournament known for unpredictability and inconsistency, one thing is guaranteed almost every year, a Cinderella story, a low seeded, lesser-known team enters the tournament as an underdog, and makes a run deep into the tournament. Typically, these teams come from smaller schools with basketball program budgets that don't even sniff the salaries of head coaches from major institutions like Duke, where head coach, Coach K, earns roughly $7 million per year. 
2022's Cinderella story is Saint Peter's University in New Jersey. With a population of just 2,300 students, and a basketball program budget of simply $1.6 million, the St. Peter's team is an underdog story the whole country can support. Despite their elite eight loss to The University of North Carolina (UNC), St. Peters, who entered the tournament as the 15th seed, upset second seed Kentucky in the first round and went on an impressive tear. 
Saint Peters finished the year with a record of 22-12. Defeating Kentucky, Murray State, and Purdue advancing all the way to the elite eight. This was a history-making year for Saint Peters as they were the first team ranked 15th, the lowest possible seed in the tournament, to make it to the elite eight in NCAA Basketball history. Classifying 2022 as a historical season for the Peacocks. 
Division One NCAA Basketball is full of four and five-star recruits, many of which have been scouted since they were in ninth and even eighth grade. Duke, Kentucky, and UNC all have rosters filled with the top basketball talent in the country; however, Saint Peters does not have a single player ranked as a top recruit coming out of high school. 
The face of this team of relatively unknown players is Doug Edert, A 6 '2 Junior guard from Nutley, NJ. Ederts claim to March Madness stardom came at the hands of social media. Edert  has sported this recognizable mustache throughout the tournament. This unmistakable look brought him recognition, however, his gameplay has earned him acclaim. In the team's first round upset of second ranked Kentucky, Edert came off the bench to score 20 points, shooting 100% from three point range.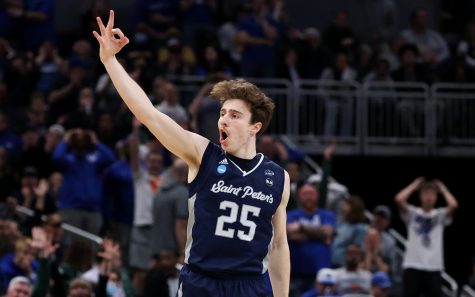 Each year Emery students create a bracket pool where the winner receives a cash prize from the buy in. Senior Reece Tiras was last year's winner, while talking of the experience he expressed that , "It was [his] first year competing in a March Madness bracket pool and the only thing [he] can argue is that it's all luck. [He] chose the four  number one seeds in [his] final four and somehow ended up clutching the win with the Baylor Bears. But there's really no method to the madness, as [he] sadly chose them to win again this year." 
Since 1977 there have been 34 buzzer beaters in the history of March Madness. There is something special about this month of basketball that does not compare to any other time the sport is played. Every team is seen as equal, and no one has any advantage. It is a tournament where the underdog is the favorite and no one can say they have a perfect bracket. This was Saint Peter's year to bring a little more madness to March.