The Historic Emery 2022 Tennis Team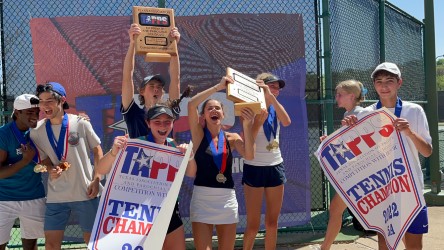 The Emery/Weiner School tennis program made history by winning state this past month. Freshman, Josephine Lombardi won first place in girls' singles, and senior Abby Cowan and sophomore, Sabrina Blinderman earned runner-up in girls' doubles. The boys' team also had a great showing, with senior Aryan Prakash in singles as well as senior Koby Sheldon and freshman Alex Aronson, both winning third place. In other words, the Emery tennis team placed in every category and clinched first place overall. 
Lombardi was a standout athlete, as she showed determination, preparation, and her impressive ability to stay focused under pressure in her championship match. 
Lombardi took an early lead, however, her opponent made an impressive comeback, winning the second set 6-4. Lombardi recalls the match,  "I had to prepare for anything that could happen" as she struggled to maintain her lead. Lombardi took every opportunity to grind her way to victory, saying, "I had to finish strong on that match point,' winning the third set tie-break 7-5. Nobody in the Emery community will soon forget such a memorable and hard-fought win. 
Prakash, one of the breakaway athletes on the boys' team, recalls the significance of one of their team outings, "we all went to a hibachi grill that one night; I felt like we all had a great and fun time together." This positive energy and connection brought pride to the team, as it allowed them to bond and spend quality time together.   
As this tennis season comes to a remarkable end, their accomplishments  throughout the season will remain in Emery. Even with the departure of beloved seniors, the young talent shown will be back next season for even more incredible accomplishments!