Wordle Takes Over Emery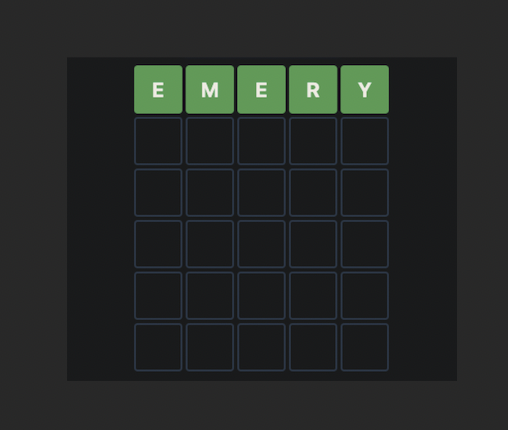 A software engineer by the name of Josh Wardle wished to surprise his word-game loving partner with a gift in October of 2021, hence he created Wordle, a play on his last name. A game started simply for him and his wife and ended up being a worldwide and schoolwide phenomenon. 
Since October the obsession with Wordle has spread across Emery like a wildfire. Students and teachers alike take time out of their everyday life to complete the Wordle daily, members of the Emery community even complete the puzzle in class. When walking through the halls of the school, one is certain to catch students or faculty members playing the infamous game.
The Wordle quickly became loved by all, however, everybody possessed different reasonings for their love of the puzzle, rising senior Sophie Halperin says that the Wordle "gave [her] something to look forward to every day" also expressing that  "[She] wanted to follow the trend like everyone was doing." While rising junior Zac Laviage expressed that he plays the game because "it gives [him] something to do when [he's] bored." 
Halperin expressed how the game helped her express her competitive nature.  By sharing it with members of her family, along with her friends, they can compare and contrast how they all did with the daily challenge. "My friends and I will send it in our group chat. I also sent it to a group chat with my mom, sister, and aunt," said Halperin 
While many kids at Emery play Wordle to simply cure in-class boredom, the puzzle does contain an educational value. Teachers in elementary schools around the country have been using Wordle as a tool to not only introduce new vocabulary to their students but also as an educational warm-up before beginning a lesson. Some teachers at Emery have begun utilizing this educational game as well, in Limor Oren's Hebrew class, students enjoy playing a version of Wordle known as וורדעל. Leah Cororve, rising junior, expresses how she "loves how Hebrew can be taught to us in such a fun and relevant way."
Rising junior, Dylan Kessler said, "I really enjoy playing the wordle because I learn new words all the time. Sometimes if the world is really hard, it is usually because I don't know the word. Recently I was stumped on the word Rebus. I definitely had to look that one up after almost not getting it right." Wordle is not just a fun game, but also a deeply educational and fundamental one.