Can the Cleveland Browns Make History?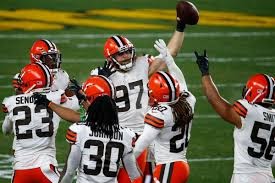 On Sunday, January 10th, the Cleveland Browns won their first playoff game since 1994, ending a nearly 25-year-long dry spell. The team's first playoff game since 2002 did not come without challenges, however. Coronavirus has been a persistent problem for the NFL, and the Browns were not immune.
The Browns defeated the twelve-win Steelers in Pittsburgh despite having nine of their coaches and players out due to Covid-19. The Browns faced another significant challenge with their head coach being unable to be with the team for the team's first playoff game against the Steelers. Two other coaches and multiple players such as star cornerback Denzel Ward and starting offensive guard Joel Bitonio were also unable to be with the team for this game. 
Despite significant challenges, the Browns jumped out to a commanding 28-0 lead in the first quarter. Die-hard Cleveland Browns fan and Emery senior Aidan Feldman reacted to the early lead, saying, "The lead meant absolutely nothing," and because of Cleveland's history of choking, Feldman added, "I was nervous until the two-minute warning". Feldman's jitters all went away when he got a sigh of relief when the Browns came out victorious. 
The Browns made the game a little closer than the initial 28-0 first-quarter lead, but ended up winning 48-37. Led by the defense's four interceptions and quarterback Baker Mayfield's three touchdowns, the Browns played very well on both sides of the ball. When asking Browns fans within the Emery/Weiner community, he said " we finally have our guy to lead us to multiple successful playoffs runs throughout his career". 
The excitement from Browns fans, including ones at Emery, is certainly warranted. The team dealt with more COVID-related issues than most others and ended one of the longest playoff droughts in American sports. The Browns were able to get those exposed to COVID-19 healthy in preparation for their Divisional Round matchup against the Kansas City Chiefs. Although their season ended to the Chiefs after controversial calls and turnovers, the Browns seem to have their QB of the future.